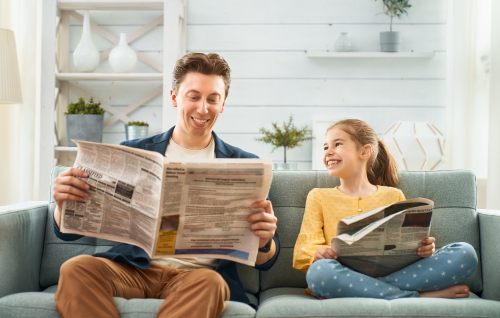 Your papersdirect newsagent delivers national and local newspapers to your door, 7 days a week and usually by 7am. papersdirect can supply any newspaper or magazine available in the UK, even if it's the local weekly paper from your old neighbourhood from the other end of the country … although it might take us an extra day or two to get to us before we deliver to you!
There is a delivery charge of 45p per day (55p on Saturday and 60p on Sunday = £3.40 per week) for urban deliveries, regardless of the number of newspapers you want delivered – we charge per visit per days so you can buy as many newspapers as you want – business. Rural delivery rates vary.
Your news deliverer is an adult man or woman who start before most shops are open. In some cases our people are not from a newsagents shop at all, but get your newspapers dropped to their home or business premises. Each driver uses an app on their mobile phone to tell them which newspapers and magazines are to be delivered to which address, and delivers to up to 100 customers in their own car. Just like most doorstep deliveries these days, papersdirect can track who delivered your newspaper, when it arrived, and where it was left i.e. how close to the delivery point …. proof of delivery for the newspaper ordered direct from your favourite publisher by subscription.